MYLES WANGERIN BAND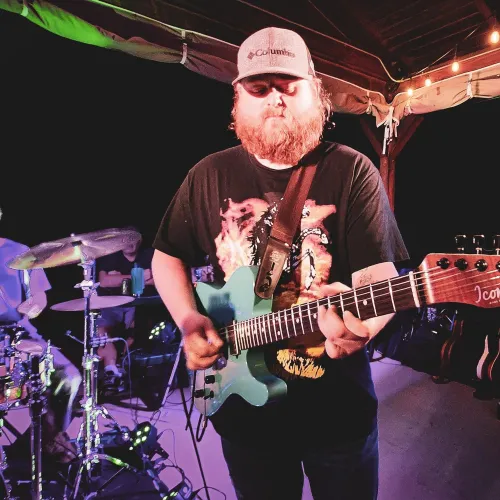 TONY INZEO
Lead Guitar
Tony has been playing guitar for two decades and has been active in the Milwaukee Music scene since 2015. His early influences include: Bob Seger, Tom Petty, Richie Kotzen, and Van Halen. He has had opportunities to play with some of the finest musicians and bands in the Milwaukee area including The Prince Experience, Myles Wangerin Band, Whole Yachta Love, No Can Do (Hall and Oates tribute) and several other incredible projects throughout the years, spanning from country to funk. Tony now spends his time as a full time musician playing a variety of types of shows, and offers recording/producing services, as well as guitar and bass lessons.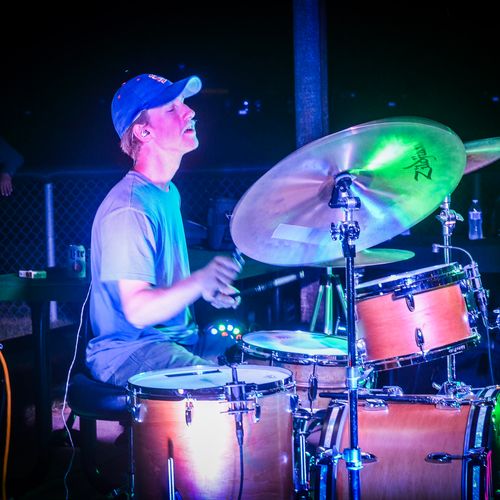 JARED MILLER
Drums
Jared, known to his family as "Bear," started his music career in the basement at home at the age of two, banging on his brother's set. At age nine, and after a year of begging to take lessons, he quickly proved his passion and talent for rhythm. Throughout high school, he played the rhythms of jazz, Latin, classical, swing, pop, rock, funk, and developed an even deeper passion for anything musically cool, including guitar and songwriting. Jared called Music City his home for about 18 months, where he worked a day job and put on several thousand miles to GA, SC, NC, PA, NY, OH, IN, KY, WV, AL, TN, and even back home to WI, to play music with three different groups, each with their own style and genre. Returning home last Spring, Jared is excited to continue doing what he loves on a Wisconsin stage.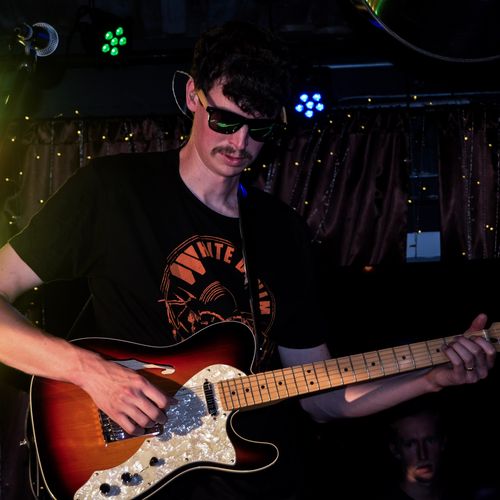 MATT BROOKS
Lead Guitar
Born and raised in Oconomowoc, WI, Matt Brooks started playing music at eight years old. After graduating from the University of North Texas in 2014 with a BA in Music and classical guitar concentration, Matt worked full-time as a guitar and bass instructor at Matt Burk Music Studio in Allen, TX. During this time, he performed around the Dallas/Ft. Worth area with numerous original, worship, and cover bands, including the top 40 cover band The Enablers, and beyond into Oklahoma, Arkansas, and Colorado with the original jam/funk band Gravity Feed.
In November of 2016, Matt embarked on his first cruise ship contract as the showband guitarist aboard the Norwegian Jade. Soon after he held the same position aboard the Regent Seven Seas Mariner. In August 2017, he was employed as a guest artist on Royal Caribbean's Grandeur of the Seas.
After moving back to Wisconsin, Matt worked for five years as a Digital Sheet Music Specialist at Musicnotes. Matt now resides with his family in Lodi, WI and works as a Program Manager for the Wisconsin School Music Association.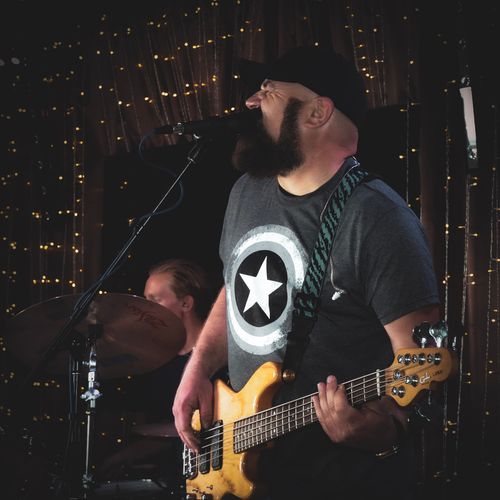 Aaron Oestreich
Bass
Aaron comes from a musical family with several generations of regional musicians. He learned to play piano at the age of 11 and taught himself bass guitar while in high school. He has been a member of several area and regional bands, as bassist and keyboardist, including Mudd Puppies, TheVibe, Cool Hand Luke, Screaming Nighthawks, The Ultimate Legends, Ripple Effect, Mantz Brothers, and Oil Can Harry.
While out gigging for the last 25 years, he continuously learned from the various sound engineers that he had the pleasure of playing in front of. In 2006, he began his live audio engineering career, covering audio duties for such bands as One Ton Banana, The Great Big, The VanEskes, Pink Houses, Cross County Junction, and The Mantz Brothers (before becoming a member).
He enjoys the best of both worlds, on the stage and off. He is currently live audio engineer for (Fleetwood Mac tribute act) Hypnotized and (Eagles tribute act) Take it Easy, and is a bass guitarist for Ripple Effect and the Myles Wangerin Band.
"

Myles is joined by the area's finest musicians for an unforgettable show! "